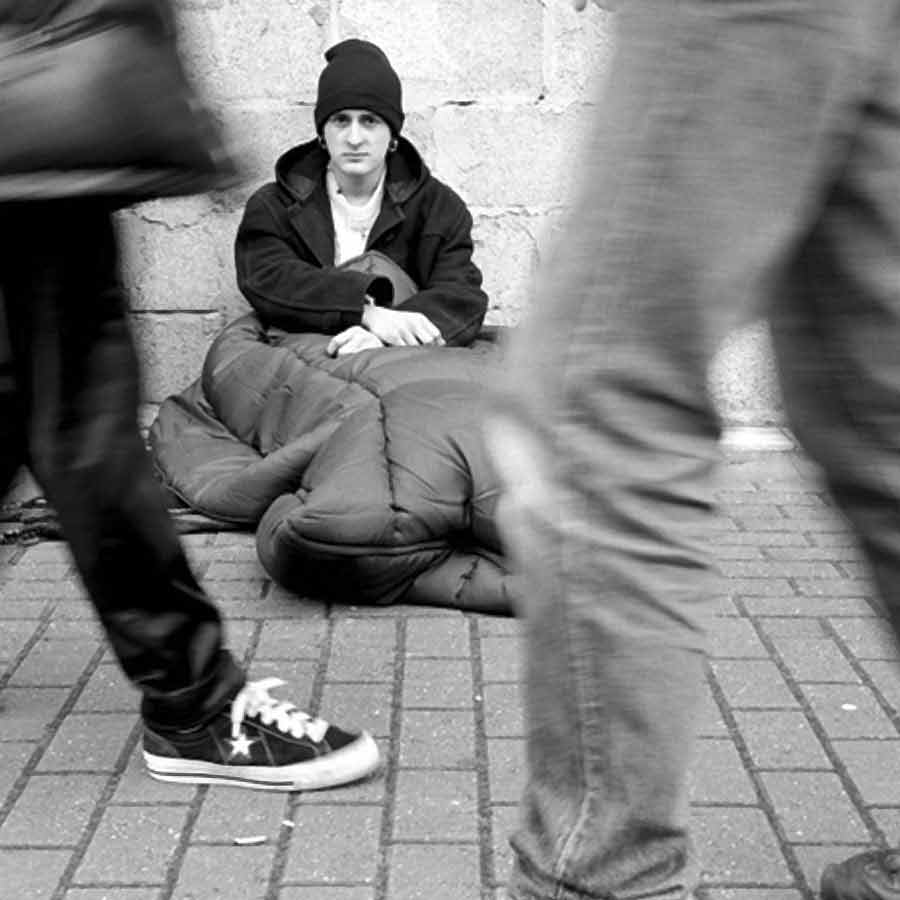 there is a little drop in center in denver whose mission is to provide a place for homeless persons with hiv to find respite during the day. it is the basement of a brownstone and hosts a washer/dryer for people to do their sparse laundry, there are cots to provide a place to rest legally and not have to wander. there has recently been a shower added to allow for personal hygiene to become more accessible, and meals from angel heart are delivered on a daily basis.
it is run by an rn named lisa wheeler and she counsels with clients about their meds, their medical appointments, their needs, and their general health. she is patient, firm, caring, intelligent, and reliable.
h.o.p.e. is not funded by ryan white funding. it is a program of the visiting nurse association, yet almost all the ryan white agencies use her hospitality and services to assist them in their daily interactions with the hard-to-reach and hard-to-keep-engaged clients. a hot meal and a kind word can go a long way in reaching a struggling soul.
this year, i have asked lisa to provide a wish list for items that would make her job easier in the coming year. i happen to know that she uses her own funds to provide many things throughout the year when her own funding falls short. i am going to as strength in numbers, the rebuilt+ committee, and the entire ryan white system to participate in a holiday drive to help provide these not-so-very expensive needs and present them in a thank-you delivery this holiday season. somehow, i am really looking forward to the holidays this year.
here is an article from a former client of h.o.p.e. my plan is to publish it in the december sin newsletter. i hope you'll understand my motivation.
Drug addicted, in full blown AIDS, and making a geographical change, again. I arrived in Denver December 4, 2005. I stayed with a friend in Aurora. Our relationship got bumpy, imagine that, two drug addicts having problems with each other, and I was out doing the sleazy dive motels up and down Colfax. I still hadn't reached my bottom. I began using in Denver. Eventually I got my own apartment and used and used. After only one year, to the month, I was evicted and homeless. This still wasn't enough. I talked about getting a job and resuming my career, literally, a "pipe dream". I let my nursing license lapse. I eventually ended up in the "court system". The best thing that could've happened. I saw the light. I met an angel at a place called the "Hope Program". The "Hope Program" is a day shelter for people who are homeless and HIV positive. HOPE is an acronym for Homeless Outreach Pharmaceuticals and Education. The way I was helped by Hope was multifaceted. It gave me structure and help prioritizing my life. The "Hope Program" has also grown. They now have a shower and cots. There is also facilities to do laundry and hot meals. The blessing is that the "Hope Program" gave me a safe environment without judgement. I took the sound advise of my probation officer, the judge in drug court, my psych support staff, my councelor in the drug rehab program, and several people in two 12 step programs.

The Hope Program helped me to see the importance of medication adherence, medical management and the having a support system. I also belong to a community action group called PBI (Prevention Before Infection). I take people for HIV testing at "It Takes a Village" and "Brother Jeff's Health Initiative" with a focus on sex workers. I volunteer at the "Hope Program". I participate as a member of the "Mayor's Planning Council". I'm an active member of "Coloradans Working Together (CWT)". I do outreach for "Addictions Research Treatment Services (ARTS)".

I've come full circle. I made it through drug court. I joined the workforce again. I am able to make choices as to my career. I think I've found direction in my life. I now do outreach and co facilitate a "Healthy Relationships" class. I do AA and CA daily. I'm working the steps and have a sponsor in both groups. I also have had an undetectable viral load for a couple of years and decided to take the Hepatitis A and B vaccines. I am closer to a loving a full life. I'm still working on me and am thinking about having a significant other in my life.


I would like to profess my undying appreciation and unconditional love for Lisa Wheeler of the "Hope Program" and Roseann Prieto of "ARTS". Those two have been directly responsible for helping me become closer to the person I want to be and giving me a great big universe.

Clarence Mack RN BSN