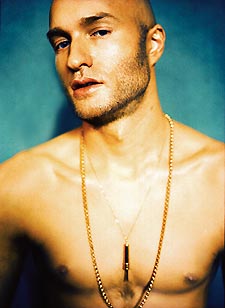 my ego tell me that because i have been to a few rodeos now, my physical life is not as full of vitality as it once was. my heart tells me all that doesn't hold the same importance as it once did. let's not make more of this than is necessary. i think it's fun to watch and to listen.
here is an excerpt from a short interview posted on
ethan says
Q: Is there a message to your madness?
A: A message? Yeah. Be yourself.

Q: for guest rapper Cazwell: You're on fire in the video. What inspired the lyrics to your rap? And what are you rapping about, here?
A: I'm honestly not rapping about anything in particular and I didn't go into any specific direction. I had to go into the studio the next day and was slacking off with writing. I had just gotten home from a party at 5:00 in the morning and came up with some rhymes. After I wrote, "Shaved my balls with a Bic disposable," I was on a roll from there.
colton ford featuring cazwell....